Книга Wingspan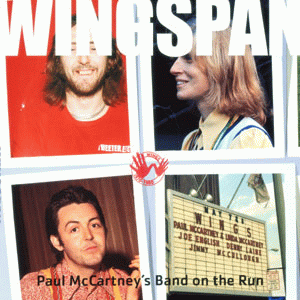 First North American edition
First Published in Great Britain
in 2002 by Little, Brown an imprint
of Time Warner Books uk
Based on the transcript of an interview by Mary McCartney Donald,
directed by Alistair Donald. Recorded on 13/14 February 2001 at House of
the Redeemer, New York
Design: Norman Hathaway and Donat Raetzo
design production: Lindha Eriksson and Gerald Rada Nedich
Additional photo research: Zoe Norfolk
Thanks to Lillian Marshall, Zoe Norfolk, Lisa Power and Robby Montgomery
Copyright © 2002 by MPL Communications Ltd.
Printed in the United Kingdom by Butler & Tanner Ltd.
Фото на самых первых страницах книги:
WINGSPAN
Text from interviews with
Paul McCartney
Text edited by Mark Lewisohn
Art direction Norman Hathaway
CONTENTS
Introduction by Paul McCartney
Chapter 1
The end of a famous relationship, the beginning of another
Chapter 2
Chapter 3
A flight of fancy - the first fluttering of Wings
Chapter 4
Hitting the road at home and abroad
Chapter 5
Chaos in Lagos for a band on the run
Chapter 6
USA, the first time - Nashville and New Orleans
Chapter 7
USA, the second time - the Wings Over America Tour
Chapter 8
Looning on boats, mulling over Kinture
Chapter 9
The Tokio experience; Wings fold
Discography
Wings stage
Index
Facing page: Watched over by Martha and
photographed by Linda, Paul McCartney picks out
the notes for a new songs, Two of Us, late 1968
Фото на последних страницах книги: